How many products should you submit for a collection? How many colors is too many? Is there even such a thing as too many?
Most creators make products available in different similar styles and colors. This is because customers actually look for different styles of the same product. It is a very general customer mindset – it has happened to everyone to visit a shop and see a nice item, then ask the store staff about other colors. It has certainly happened to most people to refuse to buy an item because it was not matching their taste or the rest of the outfit. Maybe you wanted a white, simple top, but it was only available in a dinosaur pattern which was not something you wanted to buy.
There is no specific number to limit yourself to, however, there are some things you should take into consideration.
It is important to offer variety, but too much variety can shadow the rest of the catalog or even be a negative trigger point for a potential customer because they can't decide which product to get.
Fun fact: restaurant menus contain a limited number of courses for customers not to take too long to decide. This helps the restaurant's customers to keep a steady flow of people finishing their courses and new people coming to eat, thus making more profit.
Hairstyles
Hairstyles are, without a doubt, products where you can constantly offer 20 different colors on any hair item.
The most popular color for hairstyles is black. No other color comes close in terms of sales as black does. The next popular color is a light shade of blonde, close to platinum or white blonde. The third most popular color for hairs is red – different styles of red. Most popular hair creators stick to using black for most items and occasionally coloring some hairstyles in blonde and maybe other shades.
Not many hair creators constantly offer color variety, and that is because not every color sells really well. However, the hair creators who do offer variety on a lot of hairstyles have the benefit of returning customers to buy multiple styles of the same color. It's not the same as deriving hairs to become the next big thing on the front page of the catalog, but it does make people want to return to your shop for colors other than black and blonde.
Planning on submitting a batch full of colors for every hair can also be mentally exhausting. It's not the work itself that is complex or taking a bunch of pictures of the same product, but rather the very small details of working with the same style for a long time that can be enough to make the creator think it would not be worth working on 2 full-color collections in a day. Because of that, many hair creators choose to work with the basic black and blonde colors and create as many styles as possible, instead of working on a single full-color collection for the working day.
Clothing
Clothing items should offer some variety, but not an overwhelming amount.
I've seen a lot of old creators creating jeans and recoloring them in every shade of the rainbow color. That doesn't work. Unless you're planning a rainbow or a pride collection where items look like part of a collection, don't randomly submit tens of colors.
On average, the number of colors for simple tops should be 4. It could include various styles or different colors.
The most popular standalone colors are: black, pink, and white. However, this does not mean you should not submit other colors. You should. Having a variety of products and styles in your shop is very good. But if you're ever out of ideas and want to submit an outfit in multiple colors, you can choose one or more from the colors mentioned earlier and know that those colors are likely to sell more than other colors you have chosen.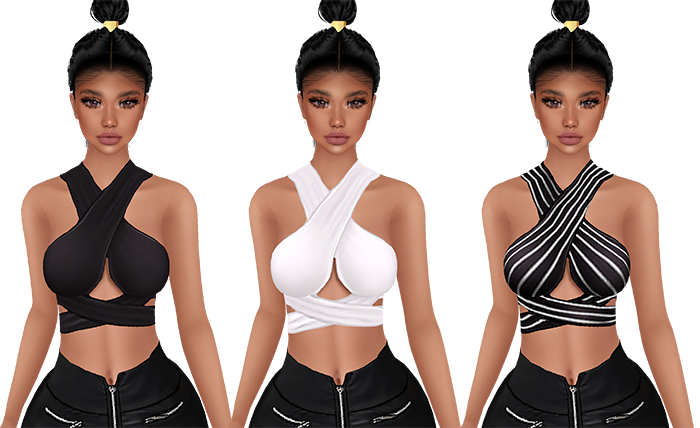 If you are working on a themed collection and wonder whether you should submit multiple styles of it, the answer is not a mandatory yes. You can create the collection in multiple patterns/colors, however, you should stick to the ones that look the best. If you had in mind a collection and wanted to make it available in 10 colors, the best idea would probably be to cut down about 3 times that number. This is because the IMVU shop and your own shop do not offer the option to hover over a product and choose the color/style. Instead, people have to scroll through your shop and look at all available products before purchasing, which eclipses everything else your shop has to offer.
Collections
A collection is a number of products that have the same theme, or can easily be matched with each other. It's a good idea to make a collection from an outfit.
For example, if you make a yellow dress, you could add a pair of matching shoes, for example, sparkly ones. You could also make a hand or arm bracelet in the sparkly style of the shoes and even a necklace.
The possibilities are endless. However, you need to decide on a limited number of items. The dress could work very well with 200 different necklaces, but even 5 necklace styles for a single outfit could be too much.
It's not just the style of the items, but the number of items in the collection should be limited. If you want to make a leather&satin extended collection, you could make 2 matching tops, a dress, a skirt, some pants, 2 different styles of shoes, and a handful of accessories. That's it. If your collection is going to be composed of 30 items, all very similar (e.g. mini skirt, then a skirt in the same style but slightly longer, long pants, then the same pants in a short version, etc.) it will be too much. The reason for that is that variety has no limit and you can make a pair of blue jeans in 60 different styles. You can make a simple, pink tube dress in hundreds of different styles.
Just because you can do something, doesn't necessarily mean that you have to do it. Sometimes, the smartest way to make the best out of different styles/colors of the same outfits/collections is to work with a long timeframe. What that means is that if you wanted to submit your leather pants in 4 colors, maybe you could submit them in black and white now, then in a couple of months resubmit them in the other 2 styles.
Sizes
Nowadays, clothing comes in sizes. And although there are scalers in the shop, most creators still offer sizes for their products, particularly for bottoms.
You will see the same pair of jeans available in small, medium, large, extra large, and sometimes XXL or even greater. Customers are not particularly interested in 5 sizes, nor are all sizes popular. The most common sizes IMVU users wear for bottoms are medium and large. Depending on the body shape you are working with and how well they go with the product you are creating, medium and large are the 2 sizes you should go with.
For tops, it's very uncommon to see a blouse/top available in multiple breast sizes and the user mentality when it comes to the upper part of the body is the same – users don't look for breast sizes in particular. However, this does not mean that some users do not avoid specific products because the breast sizes are too small or too big.
Some outfits look good with small breasts (products that require a lot of details on the chest area in particular) and some outfits look better with bigger breasts (club outfits). As a best practice, I would recommend creators to experiment with various sizes, but not for the same item created (e.g. not to make a t-shirt available in 3 sizes, unless the creator is making a mesh for other creators to derive from). Most products in the shop have a medium size for the breast area.
Makeup
Eyes are probably the most sought-after in terms of variety for the same style. They are also the most popular products that people purchase multiple styles for.
Eyes are usually blue, green, brown, and a combination of shades, brightness, and mixing the colors among them. You can get black eyes by adjusting the brightness of the brown eyes to make them darker. Hazel, baby blue, and light colors are also a combination of mixing the 3 colors and playing around with the brightness. It's not bad to have 10 colors for an eye product, but maybe over 20 can be too much unless there are significant differences and not just slight increases in vibrance/brightness/contrast.
Skins and mesh heads could offer different combinations, however, the number should be no more than 10. Most creators keep even a smaller number because of the limited options the catalog offers for shopping. For example, it could have been very useful to have only 3 skin tones or mesh heads available in the catalog, and an option somewhere to choose the specific shade from that particular category.
Light – Medium – Dark and every color would have had other sub-tones. Because there is no such option and creators don't want to submit 30-40 styles of a single makeup style, they usually create only a handful of tones.
The makeup for skins and mesh heads should offer some visible changes for every new makeup collection submitted.
Wearable makeup such as eyeshadow, lips, beauty marks, eyelashes is the category on IMVU which lacks the most diversity. Since mesh heads started becoming a trend and more users switching to them, customization is in great demand, but the supply is insufficient for the demand. Because of this and to avoid eclipsing the rest of their shops, creators have opted to make separate IMVU accounts dedicated to creating makeup and DNA customization.
Rooms & Decor
People aren't particularly picky when it comes to rooms and decor, as most people go with the most popular products in shop. The second best predictor is realism and how closely it resembles a real-life decorated room. Even in a fully purple room, people aren't very keen on making sure the lamp is the same shade of purple. White, wood colors, black work just as fine. While some items can have diverse colors for the same style (e.g. sofas), most items do not need recolors, but rather new styles of products (e.g. various styles of couches, apartments, wall paintings, etc.).
Stickers
Stickers are not very popular on people's homepages, however, some products such as avatar frames can still offer variety in terms of color and design.
Conclusion
Variety is good. It's not necessary for all types of products, but for some items, it is a must. Variety also means an endless number of possible combinations, colors, styles, patterns. Too much variety, given how the IMVU shop is currently designed, is not good and sometimes it can shadow the rest of the creations and make the buyer get lost in a bunch of colors, instead of admiring other products your shop has to offer.
Variety in terms of the design you are creating is always good. Don't be afraid to experiment with ripped clothing, belts, bold patterns, frilly clothing, etc. The more your shop resembles a real-life place where customers go to choose among different models and sometimes styles and colors, the higher the chances of that user returning to your shop are.