Reading Level: Advanced/College Student
Reading Time: 30 minutes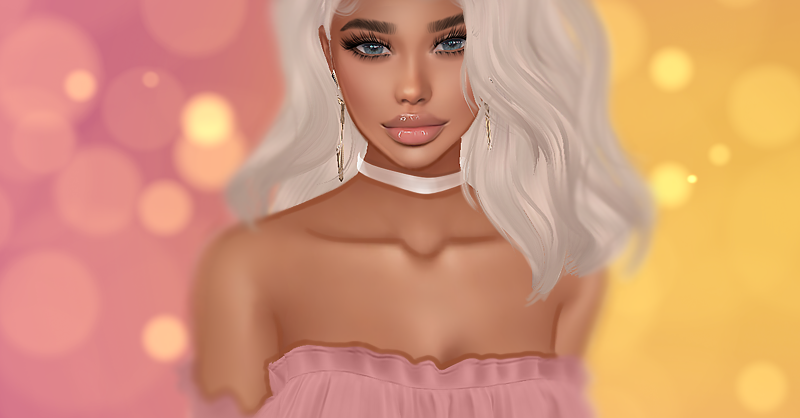 Is IMVU safe for children? Should you allow your child or a young person to use IMVU?
If you are a parent worried about your child using IMVU, there are some things you should know to ease your mind.
What is IMVU?
IMVU is a 3D messenger where anyone above the age of 13 can sign up and use the platform.
It's 3D because you have an avatar (a character, similar to Sims) which you can customize however you want to: you can change the hair, clothes, makeup, you can make it dance, interact with other avatars (that belong to other people), you can create a house and add furniture to it.
It's a messenger because you can talk with other people – there is an inbox function, similar to Facebook's instant messaging, but the main communication method is by joining chat rooms with your avatar and interacting with other users.
Is IMVU safe?
Yes, IMVU is safe. It has been around since 2004 and it's more popular than you had imagined. It has its own Wikipedia page – https://en.wikipedia.org/wiki/IMVU and it has been voted one of the best places to work in the Bay Area of the United States several times*.
There have been numerous articles about IMVU, including the making of the very first virtual millionaire, Anshe Chung**. It has caught the attention of various celebrities including Kim Kardashian West*** who partnered up with IMVU in 2016.
Documentation:
*IMVU recognized as one of the best workplaces in the US – https://www.prnewswire.com/news-releases/imvu-inc-recognized-as-one-of-the-bay-areas-best-places-to-work-for-the-sixth-consecutive-year-301046985.html
**First virtual millionaire Anshe Chung – https://en.wikipedia.org/wiki/Anshe_Chung
***Kim Kardashian West partnered up with IMVU – https://venturebeat.com/2016/06/01/imvus-social-avatar-tech-powers-kim-kardashian-wests-kimoji-app/
Other articles about IMVU:
https://www.adexchanger.com/the-sell-sider/imvu-on-applying-automation-to-digital-media-during-the-covid-19-era/
https://www.helpstounderstand.com/2020/03/what-is-imvu-catalog-credits-and-who-are-the-imvu-creator.html
https://venturebeat.com/2020/03/04/imvu-launches-live-rooms-for-hosting-fashion-shows-lectures-weddings-and-more/
https://www.socaltech.com/pasadena_s_artcenter_college_of_design_3d_avatar_site_imvu_team/s-0078571.html
https://siliconangle.com/2016/02/22/facebook-wants-to-be-the-moon-landing-of-virtual-reality-social-media/
https://www.prnewswire.com/news-releases/imvu-launches-3d-stickers-new-and-innovative-messaging-feature-300159375.html
https://www.vox.com/2015/7/31/11615216/in-the-shadow-of-second-life-virtual-reality-startups-say-this-time
https://steveblank.com/2015/07/07/episode-2-on-sirius-xm-channel-111-eric-ries-and-jon-sebastiani/
https://venturebeat.com/2015/05/20/imvus-virtual-rooms-are-ready-for-social-vr/
https://www.wired.com/2004/09/instant-messaging-goes-graphical/
And many more articles that can be found just by searching online for more information about IMVU.
Virtual currency
IMVU uses its own virtual currency called credits and promo credits. These are used for purchasing items such as clothing, poses, furniture, rooms, music etc.
Promo credits are given to users for free (for example when they sign up), while credits can be purchased through IMVU's website/mobile app directly – either with credit/debit cards, PayPal, gift cards etc.
The minimum age to use IMVU is 13, as it is for most social media sites – the age is set by the Children's Online Privacy Protection Act (COPPA) which was passed in 1998. It has been implemented as studies and research have shown that children are mature enough to handle social media starting with 13 years of age and IMVU, alongside other big social media sites adhere to the minimum age of 13.
Children's Online Privacy Protection Act
Mature content
Although there is mature content on IMVU (18+), IMVU has very strict rules about mature content.  Unlike other platforms, on IMVU you have to verify your age and purchase an item called Access Pass which will allow you to access mature content.
Verifying your age means filling in a document with your personal information so IMVU knows the information submitted is genuine. This process is highly secure.
You can read more information about verifying your age on IMVU here.
Content can be created by anyone who buys a VIP subscription (which will allow you to start creating once you accept the Creator Agreement, Terms of Service and other IMVU policies:
Creators
Users who create content are called creators – they can choose to earn credits (IMVU's virtual currency to use in game) or real cash. A lot of people, myself included, create content on IMVU as a full time job. Not impressive? Read more about how I left my job at Microsoft as an engineer to focus full-time on creating on IMVU. (article coming soon)
Creators who deliberately or accidentally submit mature content (18+) as general audience content (13+) are harshly punished – and I'm not talking about content that is obviously mature (like a top that shows off the breasts, or no panties under a mini skirt), I'm talking about 1-2 pixels that for an ordinary person do not make a difference to categorize the product as mature, but IMVU will punish creators if they submit a product that is one pixel outside the guidelines imposed.
On IMVU products that have 1 pixel outside the Terms of Service get taken down.
For example, for women's clothing there is a minimum coverage guideline which every creator needs to follow for every single item submitted to the shop. The image below is a texture of an avatar body on IMVU. The red parts represent the minimum coverage that the product needs to follow.
If there is one single red pixel showing, the product is unfit for general audience, and needs to be rated for mature content.
It might seem extreme, but IMVU is working really hard to protect its users.
There are many people who use IMVU full time to create content for users – I have witnessed many cases of people who lost their job because they accidentally submitted 2-3 products (from thousands of other creations they made) which had some barely noticeable red dots around the minimum coverage area. Yes, it has happened and it will happen.
For the normal person, we wouldn't consider this mature content, but this example is just to highlight how strict IMVU is about mature and general audience content submissions.
The Minimum Coverage Guidelines for female clothing:
Every creation needs to fully cover the red areas: breasts (nipples and part of the breast, bottom privates).
It's not just about covering the read areas, as someone could design/draw a breast and add it to a top – although it complies with the MCG because in theory it would cover the red parts, it would still be considered mature content (because obviously the creation would show an explicit image of breasts, something which is considered 18+ for IMVU and is mandatory to be rated as an 18+ creation).
Mature content that is inappropriately rated for General Audience (13+) content is re-rated by staff as Access Pass Only (18+) and will only be available to mature users. Users that have owned the product re-rated will be unable to use it further.
For example, if your child somehow got their hands on a mature item, the item will be re-rated to mature content and your kid will no longer be able to use the item, or see it in their clothing inventory.
Content Unfit for IMVU
Apart from General Audience content and Access Pass Only (mature) content, there is a category which is unfit for IMVU, meaning that any products that fall under this category are not allowed anywhere on IMVU.
Content unfit for IMVU include: branded products for which the creator does not have any rights (copyright violation), products that promote hate, or hate speech, discriminatory content, violent or sexual acts, cruelty to animals, drugs and drug usage (excluding marijuana), harm to minors, intense violence, malicious content, personal data, sexual violence, strong sexual content including depiction of arousal/aroused genitals, suicide, wagering.
Ratings and Peer Review
The following charts are taken directly from IMVU's Virtual Goods Rating Policy – https://www.imvu.com/next/policyhub/virtualgoodspolicy/ and represent a clear delimitation of General Audience content, Access Pass Only content and content which is unsuitable for IMVU.
General Audience (GA)
Blood (GA) – Depictions of blood (non-animated).
Body Modifications (GA) – Any alterations to the avatar's physical form (ex. Robotic limbs, tattoos, piercings, etc.).
Cartoon Violence (GA) – Violent actions involving cartoon-like situations and characters. May include violence where a character is unharmed after the action has been inflicted.
Comic Mischief (GA) – Depictions or dialogue involving slapstick or suggestive humor.
Crude Humor (GA) – Depictions or dialogue involving vulgar antics, including 'bathroom' humor and mild sexual references.
Fantasy Violence (GA) – Violent actions of a fantasy nature, involving non-human characters in situations easily distinguishable from real life.
Gaming (GA) – Users can play a game, including those of chance, without betting or wagering real or virtual currency.
Mild Violence (GA) – Virtual goods depicting characters in mild unsafe and/or violent situations. Also includes realistic weapons that are not used against other avatars or whose intent is not obvious or aggressive harm of other avatars.
Mild profanity (GA) – Sexually derived expletives ("f" words).
Romantic content (GA) – Romantic situations, poses, actions.
Marijuana, tobacco, and alcohol references (GA) – Names of marijuana, tobacco and alcohol products and photos of such products.
Access Pass Only (AP/APO)
Alcohol, Tobacco, and Marijuana Use (APO) – Products that allow avatars to smoke tobacco and marijuana or consume alcoholic beverages that are clearly labeled as such. If a product allows someone to mimic smoking and drinking then it is considered APO.
Blood and Gore (APO) – Depictions of excess/gratuitous blood or the mutilation of body parts.
Nudity (APO) – Virtual goods depicting full or partial nudity, including but not limited to nude humans, nude avatars, skins, and/or products (transparent or otherwise) that cover less than the GA minimum coverage guidelines below. Depiction of uncovered female breasts and un-aroused male or female genitals are considered part of this category. Products that may meet the minimum coverage guidelines but due to enhancements/enlargements of avatar bodies and parts project the sense of nudity fall under this category as well.
Profanity (APO) – Obscene, lewd, sexually crude or abusive language. Products that include such content in them – voice boxes, images on clothing fall into this category.
Themes (APO) – Moderate to heavy sexual references and/or depictions. Includes any sheer/transparent lingerie and undergarments even if they meet the coverage guidelines. Intimate avatar poses, including but not limited to avatar lap straddling, are considered Access Pass Only except in cases where they are sexually graphic and/or explicit in which case they should be considered UFI. If a product allows an avatar(s) to mimic sexual acts (but not intercourse) then it falls into this category.
Unsuitable for IMVU (UFI)
Copyright/TM violation (UFI) – To learn more about Trademark violations and IMVU's Copyright (DMCA) policy, click here.
Cruelty to Animals (UFI) – Any act, depiction or suggestion of extreme violence/sex toward animals.
Discriminatory Content(UFI) – Anything that overtly harasses, degrades, intimidates or is hateful toward an individual or group of individuals on the basis of religion, gender, sexual orientation, race, ethnicity, age, nationality, lifestyle or disability. Products that include such content as voice boxes, images on clothing or furniture items etc. fall under this category.
Drug Use(UFI) – Products that allow an avatar to mimic using or producing illegal drugs (does not include marijuana/pot) fall under these category.
Harm to Minors (UFI) – Any act, depiction, or suggestion of violence, or sex, to/with minors (anyone under the age of 18).
Hate Products (UFI) – Virtual goods which represent, promote, advertise, or in any way support, display or depict characterizations of hate-based and terrorist organizations (ex. Neo-Nazi, KKK, ISIS, gangs) or symbolize oppression toward a race or ethnicity (ex. Confederate flags).
Malicious Content (UFI) – Any virtual goods created to intentionally or otherwise malign another user or degrade user experience. This includes products whose total derivation size exceeds 8 Megabytes. This also includes products that produce flashing/strobing effects that can induce photoepileptic seizures (PSE).
Nudity: aroused genitals (UFI) – Depictions of aroused genitalia and/or unrealistic or overly detailed genitals.
Personal Data (UFI) – Anything that includes personal or identifying information about another, real-life person.
Sexual Violence (UFI) – Any act, depiction, promotion, or suggestion of rape or other violent, non-consensual sexual acts.
Strong Sexual Content (UFI) – Graphic references to and/or depictions of sexual acts including, but not limited to, penetration/intercourse, and/or oral sex with or without another avatar or any other object; additionally, this includes any overt sexual toys and/or aides.
Suicide (UFI) – Any act, depiction, promotion, or suggestion of/to suicide.
Violence (UFI) – Virtual goods involving graphic violence, dismemberment, self-mutilation, homicide; anything depicting extremely grotesque images or acts.
Wagering (UFI) – Any betting or wagering of real or virtual currency. This includes URLs or references that lead to gambling sites outside of IMVU.com. Payouts that are carried out outside of IMVU are also prohibited.
Note: colored graph and detailed information about rating types are taken directly from IMVU's Virtual Goods Policy article.
Bundled products sold together that have one or more items as Access Pass will be sold as Access Pass content.
How products are evaluated before being available for sale
Every product added to the shop goes through a system called Peer Review where users who are 18 years old and above can participate and vote on the correct rating of the product: General Audience, Access Pass, or Unsuitable for IMVU. This system ensures that no malicious content can be shared without being first checked.
For an item to pass Peer Review, it will take more than 10 people to check the product out and test it. If 9 people rate the product as General Audience, but another user rates it as Access Pass, the item will go again through Peer Review where more users will have to test the product out.
The product rated is first viewed in 3D to check how the product behaves in the IMVU client, then the user can either fail or pass it. In the example below, the item is Access Pass (for mature users) and it is rated correctly, therefore the item will pass Peer Review and it will be available in the catalog under the mature section.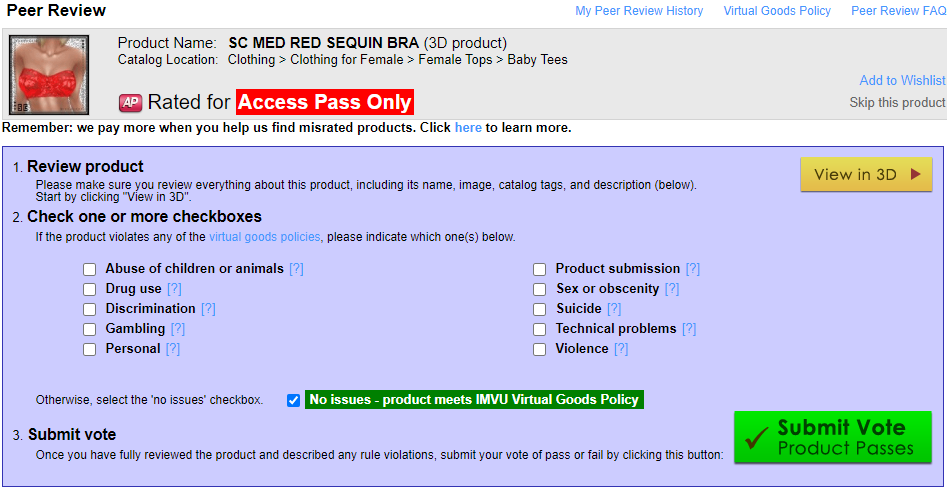 It takes knowledgeable people to rate every product that is created by IMVU users to decide whether the item is General Audience (available for everyone), or Access Pass (available for mature users that have officially verified they are over 18 years old).
Users that vote are required to know IMVU's Terms of Service, as well as the Virtual Goods Rating Policy.
If a user deliberately, or mistakenly votes several products in the wrong category, they will lose their access to rate products in Peer Review.
Peer Review also rewards everyone who takes part in it by giving them promo credits per each tested products.
Black Market
In the past, there have been numerous incorrect ratings that led to malicious creators creating illegal content for IMVU. The incorrect ratings allowed the malicious creator to have their item available in the shop (or invisible), which meant that users could buy the item, or the creator could gift the item to other users (this scenario was more common, as leaving the UFI product visible in the shop meant that it was susceptible to people flagging the item).
In the last few years, IMVU has made it even harder for unsuitable content to pass Peer Review. Users found engaging in this type of actions to submit incorrectly rated products, or products which are unsuitable for IMVU are permanently disabled and cannot get back their access.
If you are worrying about your child's safety and have read articles about the black market online, rest assured that with the changes IMVU has implemented over the years and the constant updates they are working on, it's close to impossible for any malicious item to be available in the shop.
The chance for this to happen is very low, but for the sake of the argument, let's assume it could happen – the creator/owner of the product would need to distribute the item, which means that other users could have access to the item too. The item can still be flagged by the users who own it. In a more complex scenario, if the item is hidden and the owner is careful when distributing the item (e.g. using specific websites/forums to search for people who are actively looking for UFI content, then manually sending the item to the users), staff is still able to see invisible/hidden content, so they can still find malicious content and flag it. Let's go further: let's assume the worst that there is malicious content available and no one available to stop your child from somehow gaining access to that item – what do you do?
At that point, it might be a bit too late to avoid running into such a scenario, but there are still solutions. These solutions are not related to IMVU, or any other platform for that matter, but are related to how the content on the internet is consumed.
Before we dive more, think of the most popular social media platforms there are:
Should Instagram remove the heart button because there have been extreme cases of people committing suicide over the number of love reactions they have received?
Should Facebook disable its messenger function because it is sometimes used as a means of causing emotional trauma?
Should Twitter be shut down completely because there is porn available for everyone to see?
Should every social media with a feed interface shut down completely because of potential bullying?
Certainly not. But it is every platform's duty to protect its users. IMVU is no less. IMVU's regulations when dealing with negative behavior, or just the idea of potential harm, are probably second to none. Instagram wouldn't ban Kylie Jenner for wearing a string bikini, or showing a nipple, but IMVU would.
The following paragraphs detail the importance of having open and honest conversations with your child about the internet because the internet is a safe place only if we know how to be safe – and to do this, a person should understand the clear distinction of what is right and what is wrong.
Talk to your child
You should have a conversation with your child about the internet, because this issue doesn't only affect IMVU – there is also gang rape porn on Twitter and live suicides on Facebook. Does that make those platforms unsafe? No, but it takes us one step closer to protecting ourselves when going on the internet. The workaround to this would be complete shutdown, but that is not the solution we are going after, nor would it be healthy for your child to completely lose access to use a specific platform or a website because you, the parent, have concerns about something that might happen.
I am not taking IMVU's side, nor am I trying to protect other platforms that have had such disturbing events happen. I am emphasizing the idea that it is inevitable that something bad will happen during your child's life, be it that they come across a porn video, or they see animals get hurt on purpose by sick people, or they hurt themselves badly playing basketball in real life – we cannot hide forever from danger. It's not healthy not to be exposed at all either – but it's also extremely hard to go through such situations, online or in real life, but the best solution would be to be prepared. To know that bad things can happen, some will happen and that we need to get up, get our act together and persevere in the face of danger when it will happen – this idea is not about exposing your child to all the negative and inhumane things someone can come across on the internet.
You should always have sincere conversations with your child expressing real concerns that you have. If you do sit down with your child and express your concerns about categories of bad/harmful content they might run into, they will listen. You can achieve having a successful conversation with them by asking them one day to sit down and listen to you for a bit because you have something important to tell them.
Sit together at a table, or somewhere where your kid feels comfortable. Tell them they are not in trouble (because they're probably expecting to be scolded, or they think they've done something bad), but that it's time they know how to protect themselves online (or whatever subject you are discussing). This is a real conversation you must have with your child if you are genuinely concerned about them. Remember you are educating your child and you have to be calm when speaking, patient, you have to let them know that you will be there for them, encourage them to be open with you when they have anything on their mind and be prepared to answer any questions that they might have.
Don't yell at them when discussing important topics, don't yell at them when they are opening up to you about something on their mind, don't think of ways on how you can control them because you will do them more harm than to help them.
Clinical data shows that protected children become victims in adulthood because they do not understand the concept of death, or that something bad could happen to them. Don't forget that people live as adults for most of their lives, so prepare them for that time, don't try to postpone the inevitable.
I spent tens of hours preparing for this article, especially for the very improbable likelihood of your child coming across the "dark" part of IMVU.
The worst thing your child could come across on IMVU (although it's highly, highly unlikely) is an erect penis they could attach to their avatars.
Revealing clothing
While there are strict rules when it comes to mature content, bikinis and other revealing outfits that follow the minimum coverage guidelines (MCG) are safe to use by every user on IMVU. The suggestive photo here showcases two outfits that are 100% General Audience.
Some people might still find this too revealing and associate it with mature content, however if it complies with IMVU's Terms of Service, the product will be available in the shop.
In this case, you might want to talk to your child if there are moral, religious, or other types of serious concern over their avatar's attire.
Please also note that what you find revealing and sexual might not be interpreted the same by you child. Barbie dolls wear revealing clothing, yet we don't sexualize them that much. We don't sexualize naked infants on the beach or kids under 7 who aren't wearing anything.
This, of course, does not excuse an outfit that is still too revealing/indecent/inappropriate for your child's age. If you notice this about your kid's avatar, talk to them about it.
Roleplaying
As IMVU is a 3D messenger, some people engage in roleplaying. Roleplaying on IMVU is not what you have in mind when you're thinking about roleplaying associated with intercourse.
Some people like to fantasize and create stories with people who share similar interests. You will come across people dressed as furries (they put on cat/tiger/dog/dinosaur makeup and clothes), princes and princesses, mermaids, pirates, social media stars. They create a story where they let their imagination flow – they might be saving a fallen princess, or they might be plotting how to make the biggest purple cupcake in the world!
Body dysmorphia
IMVU users like to dress up their avatars to look a certain way. Most avatars are super fit, have perfect skin and generally look very healthy.
People, not only children, often like to fantasize a lot about their ideal looks. Is this a problem? No, it's not. It only becomes a problem if your child is dealing with low self esteem, confidence issues etc.
There might be physiological problems (acne, scars, obesity, anorexia or other physical medical issues), or just psychological. Far most kids and teenagers, the issues are psychological and start with the parents. It's not just IMVU, it's social media everywhere – you see beautiful models, handsome actors, flawless looking singers that portray an unrealistic image of a person. This might affect someone who does not have enough self confidence.
It is your job as a caregiver to make your child feel loved. It is your responsibility to raise their self esteem. It is your duty to instill kindness in them. These will make the child feel loved, wanted and it will make them great adults one day. A child that has been cared for, loved, praised when they did something good, has not been physically or mentally abuse will not need to indulge in virtual worlds or shady communities to feel like they belong. They will not create an ideal avatar of themselves, or take a selfie that shows their best angle and still apply 20 filters to look better. They will enjoy the moment, they will be happy, they will know how to be responsible for themselves and they will contribute to creating a better world.
Becoming a creator
Creators are users that need a VIP subscription to design and submit products to the IMVU catalog. Any user can be a creator, regardless of their age. This exposes a risk where your child can strip naked the avatar when testing clothing designs. Yes, this is real and it can happen – it will expose your child to the genitals of the avatar (male or female).
Should you allow your child to become a creator?
Yes. Creating will enhance your child's imagination because it is a form of art. Not only do people design textures for products they want to make, but they also define their own style and they create artwork to showcase their creations. In the long run, after your child turns 18, they might be able to learn an income from IMVU from their creations, or it might help them get into a prestigious college because they have some real business experience! After all, establishing your name as a brand on IMVU is nothing less than creating a successful business.
You can read my success story here on how I signed up for IMVU as a child and now work full time on creating as an adult. – coming soon
Before your kid can become a creator, they will have to buy VIP membership – which is either they ask you to buy it for them, or they will buy it themselves (more and more minors have debit cards they can use).
In either case, you should encourage your child if you notice their enthusiasm when talking about becoming a creator.
If you are a caregiver that found out about your child being a creator on IMVU after they signed up and bought their VIP membership, do not get mad. This article should tell you all the information you need about what IMVU is and how safe it is. You should, however, have a conversation with them if they broke any rules you have established in your household (such as them telling you whenever they make an online payment).
Harassment, bullying and predators
Like any online community on the internet, IMVU is not 100% safe. This is because anyone can sign up for IMVU, or any other website for that matter.
If you are worried about your kid getting bullied, you should have a conversation with your child.
If you notice that your child is feeling down after signing up for IMVU, try talking to them. Remember, kids mostly associate serious conversations with being scolded, so make sure you make your child feel safe and comfortable before talking to them.
Some kids are ashamed of sharing stories with their parents/caregivers for fear of disappointing them – remember to talk to them calmly and let them know that whatever it is, they can talk to you so you can solve it together.
Remember that you can always contact IMVU too. Staff will talk to you in private about this and they will make sure that your child is safe.
Most common reasons why people on IMVU get bullied:
Their avatars do not have better clothing (other than the default outfits which are available when a user signs up)
The user does not have upgrades such as VIP, Live Rooms etc.
How IMVU users interact with each other
On IMVU, users can interact in various ways. Below you will find a complete list of the types of activities there are and how they are used.
Chat rooms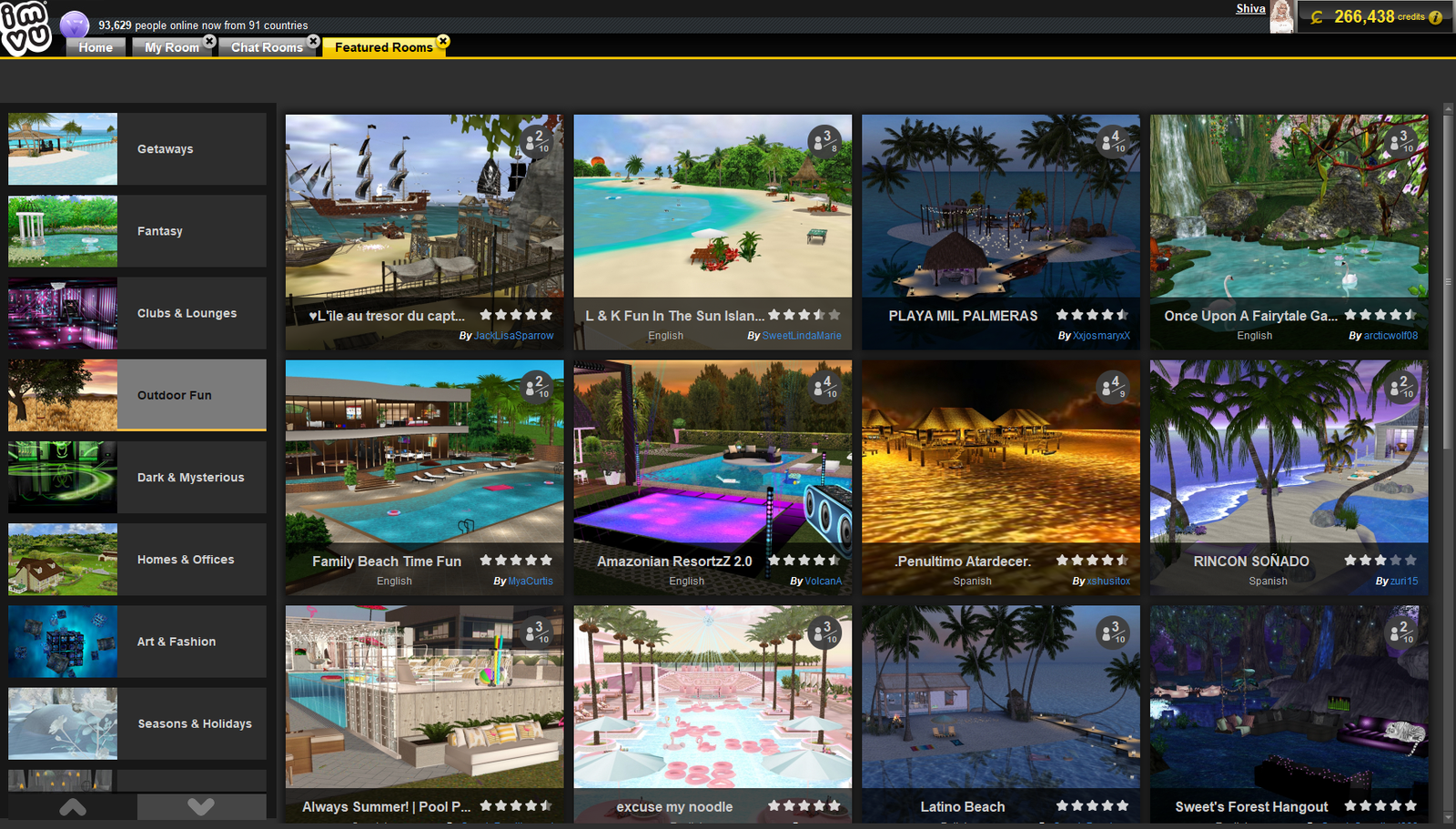 To be able to talk to another avatar, a user must enter a chat room, or host their own chat room where they can invite other people.
Chat rooms are decorated rooms and can hold up to 10 people. They can be General Audience chat rooms, or Access Pass chat rooms aimed at mature users.
Users can enter a chat room if there is a slot available. Every chat room must be compliant with IMVU's Terms of Service. Some chat rooms have moderators that boot or ban other users, but most rooms do not have moderators available 24/7. Moderators are either the room owner or people the room owner gave moderator privileges.
Any user from a chat room can easily be reported to IMVU staff and every message sent can be flagged.
Live rooms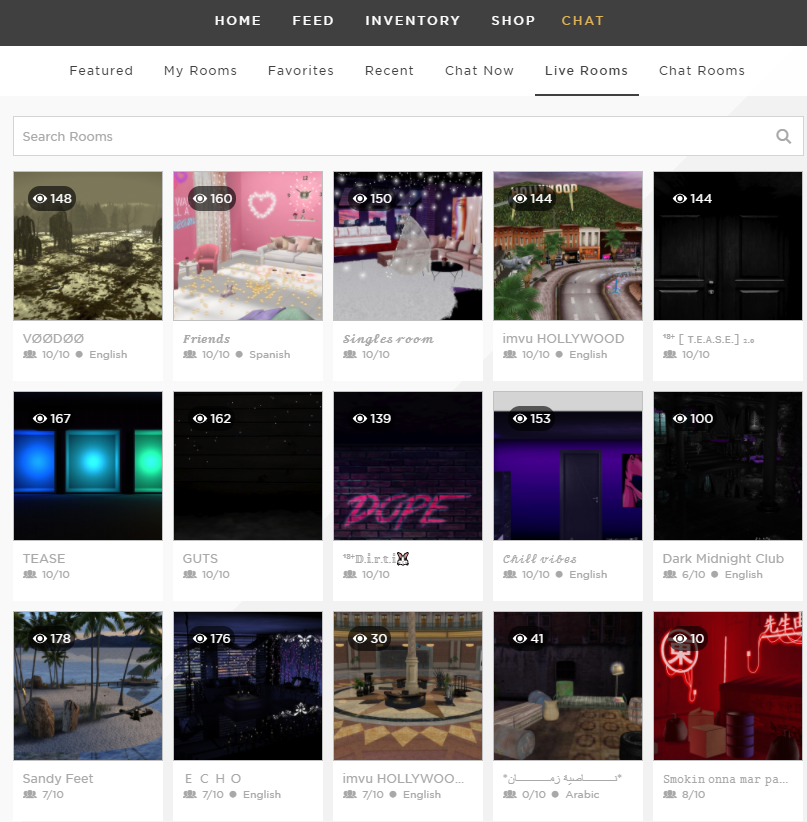 Live rooms are similar to chat rooms, with the exception that they allow more people to join. More than 10 people can be at once in the room and others can watch the people in the room. Live rooms are usually meant for events where the host interacts with guests for entertainment. Events include Halloween parties, weddings, pajama party, unicorn themed party etc.
It is important to mention that every chat invitation comes as a pop-up where the user can accept or decline joining the chat. It is not the same case when a user voluntarily joins a publicly hosted chat room.
Inbox
The inbox of a user however is like an instant chat messenger (like Instagram or Facebook). Desktop/laptop users generally use the inbox as an easy to manage email system, whereas mobile users use the inbox system exactly like we message our friends and family on Facebook. This is because the inbox is a bit slower when using the desktop version compared to the mobile version available for Android & iOS.
Groups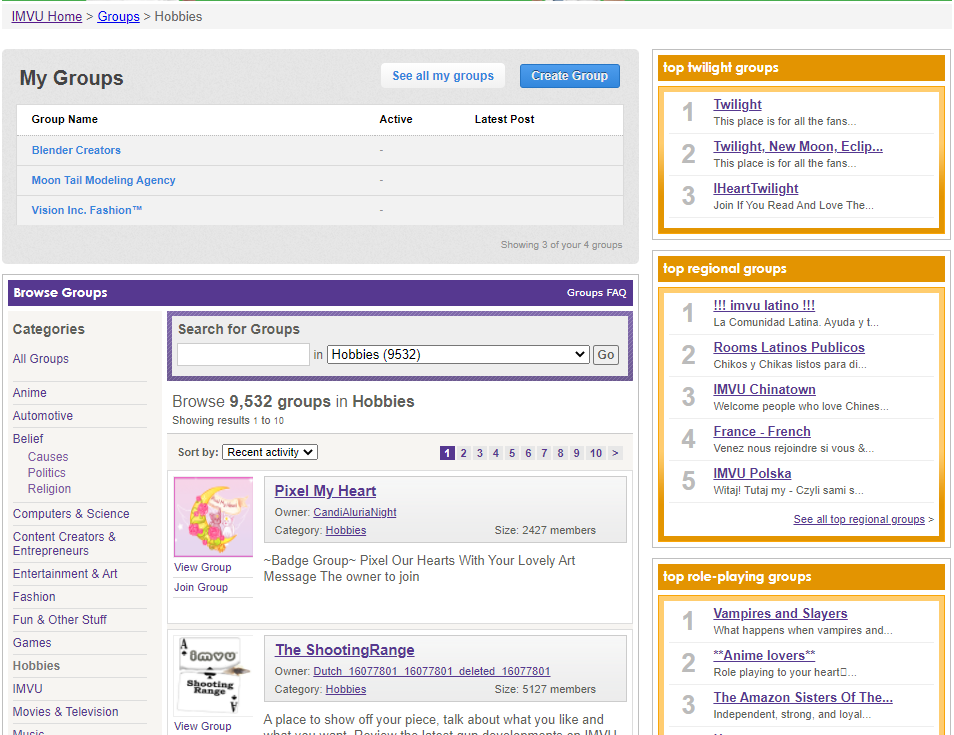 There are groups similar to forums (although there aren't as many functions for group management as there are for an ordinary forum) where people get together usually for a common goal of socialization: role playing, socializing, sharing memes, posting artwork, fashion, discussing hobbies etc.
Groups have started to become obsolete, as more and more people prefer creating Instagram accounts and Discord servers to hang around IMVU communities that share similar interests.
Community Discussions/Forum
Community discussions, previously the forum of IMVU is a blog/news type of interaction between users. You can socialize with others, share tips, tricks, advice and can talk to members of the staff directly (usually to address feedback; complaints/specific account issues are handled by the support team through tickets).
Get Matched
There is a "Get Matched" function integrated in the desktop client for users who are over 18 years of age. This function is not available to users under 18 at all.
Pulse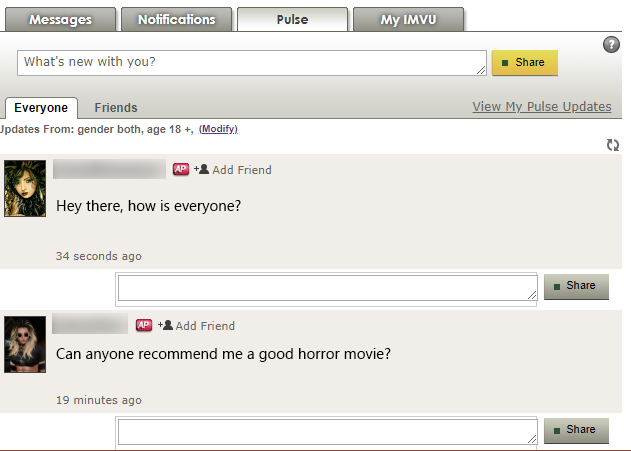 Pulse is a text-based short message you can share with the world, or your friends. It is similar to Tweets, as people mostly use Pulse for short notifications, announcements, or advertising their art.
Feed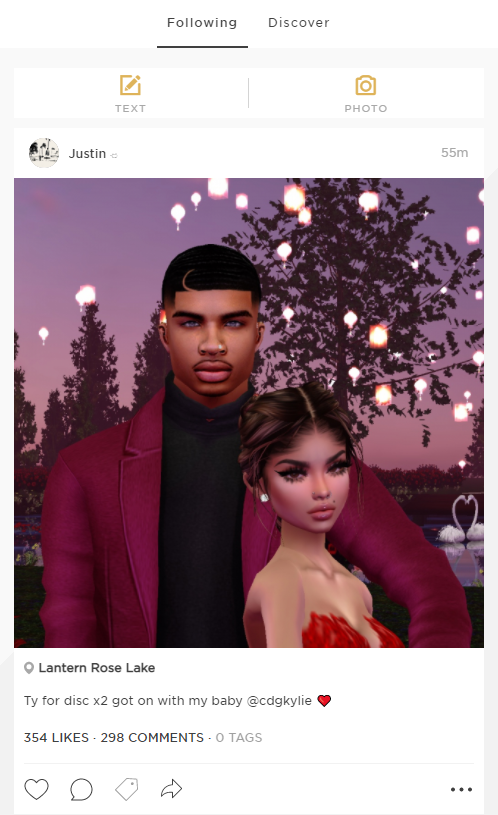 Feed is a function where users can share photos or text, similar to Facebook. The feed content is available to everyone and everyone can like and comment on the post.
Social Media and Discord servers
Nowadays, having a dedicated social media where you can follow you friends, your favorite artists and creators is the new trend among IMVU users. Different people host contests, post useful information for IMVU users etc. and a lot of people want to interact with them – and not just that, but it's a creative community that is sharing a lot of artwork especially.
If you notice your child is using a dedicated account, or is posting IMVU photos on their Instagram account, there shouldn't be any real concerns, unless there are other details you have noticed (such as crypted text posts, odd images, behavioral changes etc.). In this case, remember that it is important to be honest with your kid and invite them to a friendly conversation where you discuss the changes you have noticed.
Please note that your kid might also be dealing with hormonal changes due to becoming a teenager or transitioning into adulthood. It is a thought you should keep in mind and not be over-protective of them.
Parent reviews for IMVU (feedback from other websites)
As the scope of the article is to cover every aspect possible on how safe IMVU is, it is important to include reviews for IMVU by other people.
Commonsensemedia.org is a website where people can review websites. Reviews can be written by parents or kids.
You can find the reviews directly on their website.
Based on the reviews from the website, people generally recommend using the website after the age of 15.
Some people have shared their experience saying that there are many people who engage in sexual conversations and will try to make indecent jokes or remarks to other users.
Many other people are upset because of the indecent exposure such as lingerie, bikinis being available to kids as well. Some parents are concerned about the strangers their children might be talking to, thinking their kids could be talking to drug dealers or other shady people.
Most parents and kids believe that the avatars are dressed too revealing, however I have covered this point at the beginning of the article. Some people do dress revealing, some don't. IMVU is similar to real life, as in both worlds you should associate yourself with people whom you either feel comfortable around or admire and look up to.
On the same website, Twitter, Facebook and Instagram are recommended for teenagers over 15, while YouTube and Pinterest are recommended for kids over 13.
Most parent websites rate IMVU as above 15.
The telegraph.co.uk conducted a research where kids rated ASKfm, Omegle, IMVU and Facebook as risky websites.
It's worth nothing that all of these sites have in common one thing: it's easy to reach other people, that means that strangers can come in contact with other people faster and easier than on other platforms. It might not mean that the websites themselves are unsafe, but that predators and people with malicious intent might use them more often to try to reach out to a particular group of age. It might not mean that these websites are safe either, but it is a common factor that could be a reason why malicious people prefer communities like these.
SmartSocial.com suggests that IMVU encourages users to chat with strangers. It is true that there is a "Chat Now" button that you can click and you will get paired with another person who has also clicked "Chat Now". However, you don't see ads on IMVU that explicitly encourage users to "talk to strangers". Their general description when signing up is:
 "Customize your avatar. Connect and Chat in 3D. Join millions of others around the world now".
It doesn't necessarily mean that IMVU doesn't encourage this act either. After all, it's a business that makes money when users interact with each other and buy products, subscriptions, pump their rooms, their friends etc.
Facebook also suggests "people you may know" and sometimes you just have nothing in common with Joe Millis from Neverland who was just suggested to be added as a friend.
How IMVU protects its users
The following information is taken directly from IMVU's website:
What Parents Need to Know, the IMVU® Promise to the Community
Lying about your real age and pretending to be a minor or an adult will result in a permanent ban
It's very easy to flag messages and report users – through inbox, through a 3D chat, by clicking the user's profile page or avatar card, on mobile, flagging messages, on feed, in user groups, in the community discussions
IMVU support is available 24/7 and users can open tickets for any issue they might have
Users found to breach IMVU's rules get disabled and lose access to their account
IMVU support prioritizes cases of child abuse or potential self harm
Creators that mistakenly submit products that do not even seem to be related to mature content, but who breach even one pixel from the minimum coverage guidelines imposed by IMVU will get disabled (a handful of one-pixel mistakes are enough to permanently disable a creator that has been creating for over 10 years and has over 7,000 products submitted)
New users have limited access until they verify their email address
Users can get disabled if IMVU believes there is suspicious activity going on with the account
Suspicious activity going on for several accounts that share an IP address result in an IP ban
Access pass content cannot be shared to the feed
Users 18+ cannot search for users who are under 18
As mentioned earlier, some people work for IMVU as full time independent creators – these are people that can earn even 50,000$ per month (yes, some people earn that much money per month with IMVU), they could be users who have been around for more than 10 years, who have submitted over 20,000 products and yet, if they make a handful of one-pixel mistakes, they will either get permanently disabled or have their creator privilege removed, meaning they will never be able to create again on that account.
There are many cases of high earning creators that have made such mistakes and are now disabled. Just to emphasize how harsh IMVU is, the product doesn't even have to be a clear representation of an unsuitable creation (such as racist, discriminatory remarks or pornography on a T-shirt). Nope. A single pixel underneath the T-shirt can get a creator disabled for not following the rules.
Psychological impact on controlling children
Throughout this article, there is an emphasis on communicating with your child. I understand that some of you either do not want to give your children a lot of freedom, for fear they will misuse it, or you are not used to having an honest conversation with your child. In any case, you should at least acknowledge the importance of this action. If you do not, you risk becoming controlling and you will end up hurting your child more than protecting them.
Although this part is not directly related to IMVU, there are risks if you decide to control aspects of your child's life when the danger is not obvious.
Say you are out with you kid and there is a snake hissing at you, in this case you should take the child to safety as soon as possible. They might not like it, but it might be because they are too young to understand what danger is. This usually happens with infants and kids who are maximum a couple of years old (although we have a native fear of reptiles, snakes especially and it is in our instinct to avoid coming in contact with such animals).
When your kid is 13 and older, they have a basic understanding of what danger is. They also know how to communicate and express their feelings, when they like or dislike something. In this case, you can't just shut the door to their room and expect them to understand. They will want answers. They will need answers and it's not just an age aspect, but a species aspect. Humans are social beings. They live together, dine together, they communicate with each other. If no answer is provided, kids will start distancing themselves from you – why should they trust you when they don't know what they did wrong? After all, no answer provided would probably be interpreted as a form of punishment (even though your intentions might be to protect them), mostly because parents do not have serious conversations with their children other than punishing them.
Coming back to IMVU, it's the same as shutting down the door to your kid's room for no obvious reason to them. If you do not want them on IMVU under any circumstances, do your research, come with facts, not just fears you have of what might happen, and tell them everything. Let them know that you are worried, ask them how they are feeling about this, ask them if they've ever encountered such a scenario. Telling them is way better than just doing what you believe is best for them. You might actually come to an agreement with them that would make both of you happy.
Not only this, but remember that getting their account terminated as a means of protection will actually do more harm in the long run, than it would if you sat down with your kid or teen and explained to them how to deal with difficult situations. This is valid both for online communities, as well as real life scenarios. You should reach an agreement that is beneficial for both of you.
Conclusion
IMVU is a real platform that has been around since 2004. It is a safe community overall where people interact with each other and customize their avatars as a means of expressing themselves. It also encourages people to be creative through various means: taking photos, sharing art, creative contests (design, 3D, writing etc.). People can dress up their avatars however they want to.
Anyone can wear revealing clothing that complies with IMVU's policies (minimum guidelines suggest a bikini covering type for the genitals).
IMVU punishes anyone that does not fully comply with its Terms of Service – from predators, to racists, to thieves and even creators that make mistakes that result in one single red pixel showing that does not comply with the rules.
Like other social media communities, it is not 100% safe, as anyone can sign up and use the platform – people with malicious intent too. Make sure you talk to your kid about the dangers of the internet. It's never too late to have this conversation with your child.
It's every caregiver's job to make sure their kids feel loved, appreciated and to raise their self esteem, not just for IMVU.
It's a mad world out there (virtual and real life), but it doesn't have to be. You can make it better.
Important note:
This article has objective points, as well as subjective information shared from the author's personal experience. A lot of research has been done such as interviewing people on IMVU to ask for their experience, researching articles and discussions about IMVU from different platforms and websites including, but not limited to: IMVU.com, Telegraph.co.uk, YouTube.com, Facebook.com, Instagram.com, Reddit.com, ImvuMafias.org, Pinterest.com, Twitter.com, Tumblr.com, CommonSenseMedia.org, Glassdoor.com, Quora.com, SmartSocial.com, Wikipedia.com, ProtectYoungEyes.com etc.